Whether romantically in the carriage, funny in the rickshaw or sporty by foot. Vienna can be explored in many different ways.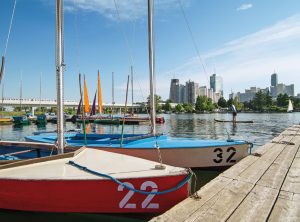 BOAT RENTAL
The prettiest place to sail is along the Alte Donau. Whether with pedal boat, rowboat or electric boat. The rowboat is available
for rental starting at € 14/hour.
Info: eppel-boote.at, meine-insel.at, yelp.at
PUBLIC TRANSPORTATION
Whether for shopping, strolling or sightseeing. 179 lines (bus, metro and tram) are available. The daily ticket costs € 2,20 and is available at tobacconists as well as the public transport stations.
Info: wienerlinien.at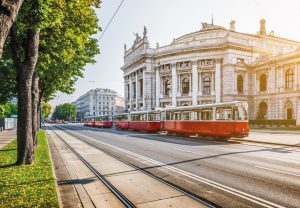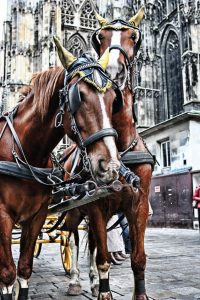 CARRIAGE
Since the 17th century the horse carriages have helped shape the portrait of Vienna. Horse carriage rides through the city center start at E 45. In order to see sights such as the Hofburg, Parliament or Burgtheater one has to expect to pay around € 80/€ 90.
Info: fiaker.at, fiakerzentrale.at, fiaker-paul.at
RICKSHAW SERVICE VIENNA
Next to horse carriages the city boasts another environmentally friendly method of transportation: rickshaws can be found on tourist-hotspots such as the St. Stephen's Cathedral or the Opera. The most affordable ones are available at three-wheely.at
(€ 5/person/10 minutes).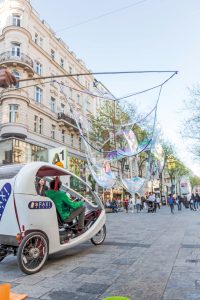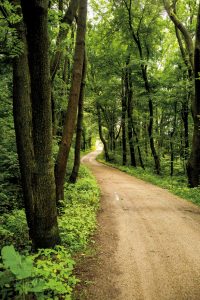 CITY HIKING TRAIL
No matter whether one is searching for untouched nature or historical buildings – there is something to be found for every taste. All together there are 120 km of well signposted hiking trails leading through Vienna. One can choose between 11 different tours.
Text : MARION HAUSER
Into Spring with Citybike Wien
City bikes are available for use 12 months a year and are especially popular now with the begin of spring.
The basis for the positive development of the success project Citybike Wien is the infrastructure, consisting of 121 stations with 3,115 boxes which offer 1,500 bikes. Through this it has been possible to further increase the number of trips, which has surpassed the 1 million marker again. With around 130,000 new members it was possible to set a new record as well. Partly responsible for that has been the new option to sign up through the use of smartphones, which is being used more often.
Head of Citybike Wien Hans-Erich Dechant is happy about the great popularity of Citybike Wien: "The continued success is due to our system and service optimization as well as our online offer to sign up with the use of a smartphone. The many positive responses and valuable suggestions of the Citybike Wien users are great motivation to continue working on what we offer and make the service even more user-friendly."