Herwig Pecoraro makes one of the best balsamic vinegars in the world. That in itself wouldn't be surprising if Pecoraro wasn't a great opera singer as well.
It's uphill all the way. We're in Klosterneuburg-Weidling, a district which has its own town sign, because – unlike Klosterneuburg(-Kierling) on the Danube – it's located in the hinterland behind vineyards at the edge of the Vienna Woods, a unique wilderness nestled just to the west of Vienna. Klosterneuburg, just beyond the city limits of the Danube Metropolis, is a settlement built around a powerful, Catholic monastery and has been a residential retreat for wealthy citizens ever since the postwar years, including many artists who do not want to live in the exclusive Viennese cottage districts Döbling or Grinzing. Klosterneuburg, little more than a village, is a worldly place. The nearby hamlet of Gugging has even been selected as the quiet home for a world-class university.
On the crest of this hill – part of the extended Alpine ridge – a stable wooden shed fronted by a spacious driveway comes into view. It looks like a tool shed belonging to a tradesman, which is pretty accurate, as it turns out.
A man wearing casual clothing and slippers approaches from the single-family house below the shed. Any conclusions drawn during our first two minutes here will soon prove to be false.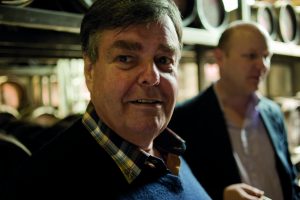 The man is Herwig Pecoraro, the opera singer. He is not only a regular with the Vienna State Opera, but is known internationally as well. But we have come for the acid he manufactures: we want to taste his vinegar.
But wait! Pecoraro's vinegars are not acidic – they are balsamico-vinegars, which, by way of reduction, have a sweet taste. These vinegars are bottled in Modena! And it may well be that Pecoraro's balsamic vinegars from Kloster­neuburg are the best balsamic vinegars that can be found in ­Modena. Just how did this happen? At this point we'll need to get a bead on the man behind the name, to tell the story of an individual who has lived a grand life, yet remains true to his dreams.
Herwig Pecoraro is the offspring of a Northern Italian immigrant family that moved to Vorarlberg three generations ago – to the far west of Austria – to find work there. The poverty-ridden Valsugana, from which the Pecoraros came, belonged to the Austro-Hungarian empire at that time, and mobility – even within the realm – was very difficult in those days, not least of all because outsiders were generally mistrusted.
Herwig Pecoraro grew up in a stable home and had early ambitions to be a cook. This was supposed to be his calling and it's what connects him with Stefan Resch, the Head Chef of the Vienna Park Hyatt, who came along today to refresh his supply of vinegar. Pecoraro offers his balsamic vinegar in handy liter bottles for restaurants, and his elixir costs more than some premium Bordelais wines.
Pecoraro had to set aside his dream of becoming a cook during the early '70s because – for baby-boomers – it was all about job security in those days. So Pecoraro was sent to the police academy, which was modelled after the French system. In fact, until just a few years ago, provincial police in Austria used the French designation "Gendarme". Pecoraro, who wanted to become a chef, became a Gendarme instead – complete with badge, revolver and patrol car. Not his idea of Heaven on Earth!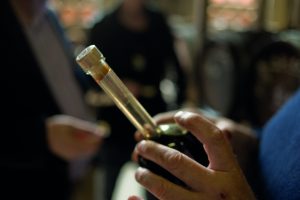 In those days the tourism industry in Vorarlberg began to boom and Pecoraro was assigned to police duty in prominent ski resorts. Plus he sang. Just for fun. In a drunken wager he promised to audition at the Conservatory Feldkirch. He was immediately accepted into their program, to his surprise. That was the moment Pecoraro realized that he might be able to pursue an artistic career. Meanwhile, privately, he had developed considerable skills as a pastry chef. Juggling two formidable talents at the same time? For some people this might be too much of a challenge. Not for Herwig Pecoraro.
In a classy hotel in Montafon, where Pecoraro occasionally looked in on the patissier, resided the famous singer Elisabeth Schwarzkopf, a fixture on the concert scene during the Karajan era. Pecoraro summed up all of his courage and approached the singer (in his Gendarme uniform, a clever move!) to ask for a brief audition. One can imagine Schwarzkopf's face, having soldiered through many auditions offered by so-called singers in her day. But Pecoraro had talent, so Schwarzkopf took him under her wing. This was the end of his Gendarme career and also the end of his dream of becoming a cook. He gave up badge, service revolver and the keys to the patrol car. Then he bought a second-class train ticket to Modena to learn to sing.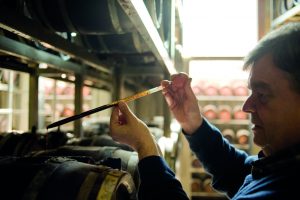 "You must sing," said Schwarzkopf again and again. Singing also means developing technique. And that meant learning from the best. Pecoraro invested his modest savings, supplemented by a loan from his family, and rented a room in a monastery in Modena for over a year. At the vocal academy he met Luciano Pavarotti, who was just becoming a star at the time. Pavarotti hailed from Modena and showed Pecoraro around, highlighting not only the architecture, but above all the culinary features of the city. Balsamico, too, of course. Besides training as a singer, Pecoraro soon learned how to produce this specialty vinegar. Here again was something new and captivating for him to pursue, so he began to set out a strategy for producing his own vinegar.
Singing was, of course, his first priority. Early performance bookings, at the opera house in Graz, for example, had already taken place, even as Pecoraro was still contemplating a future that included balsamico production. So he drove back to Modena to learn from the best. Aceto Balsamico was only a local delicacy forty years ago. The mighty balsamico industry for which Modena is known today, did not exist at that time. Many small operations shaped today's lasting image of balsamico. Balsamico is made, as it had been for centuries, by the reduction of acetic acid bacteria introduced into grape juice. A truly archaic craft which has many similarities with viticulture, only with smaller barrels.
The years passed. Herwig Pecoraro became a famous opera singer. Eberhard Wächter, the former head of the Vienna State Opera, brought him to Vienna, where Pecoraro eventually became president of the soloists union, a function that helps make cultural policy. Suddenly, Pecoraro was no longer just sitting in a rehearsal room or in make-up, but also took part in long negotiations. The hours flew by, the days were long, and time grew short. For vinegar production …
But then came a sudden shift. 18 years ago, Pecoraro finally had enough knowledge and money to establish a new foothold. He was prominent enough that he was able to develop a solid customer base with very little effort. He could have done it easily with a balsamico copy made in Austria: all well and good. But Pecoraro wanted more.
He wanted to be at least as good as the best balsamico producers of Modena. Thus Pecoraro's aceto balsamico, which is only available in small quantities, was not destined to become just another "cool by-product" of a prominent singing career, but an essential component in top restaurant kitchens. Pecoraro has returned to the kitchen, to his first love. His vinegar has allowed him to complete the circle in a life ripe with possibility.
Pecoraro's vinegar workshop is a clean space, replete with shelves that hold many small, even tiny, barrels. Time to sample precious drops of his concoctions, as planned. He emphasizes how different types of wood used to make the barrels – oak, chestnut, cherry – contribute to the flavor. To the
astonish­ment of all present, the balsamico from the cherry wood barrel – the fruitiest of all the ­essences here – tastes decidedly like cherry.
Later this year, Pecoraro plans to make a cuvée from several of the essences from his collection. After nine or fifteen years time condensing to perfection, he'll take it to market. It's a good bet that someday soon he'll begin mixing a cuvée that will only be ready for consumption after his passing. Like viticulture, this ancient craft will continue on for what seems like an eternity.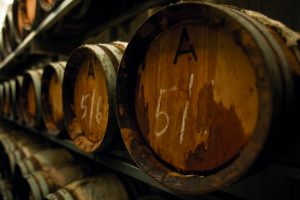 Text & Photos :  MANFRED KLIMEK