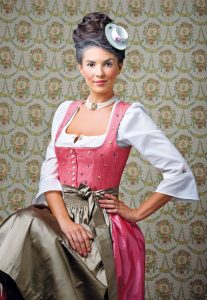 Dirndl & cup by Augarten
Two handicrafts in ideal cooperation: dirndl by Gössl from the Augarten collection. Dress € 1,250, apron € 240, blouse € 190. Mocha cup "Vienna Rose" by Augarten as fancy head ornament, € 105.
The ease of being by Mühlbauer
The foldable unisex-hat "Graf Rix" in three colors is made of light hand-braided panama straw. Modern elegance – perfect for sunny and warm weather. € 345.
Skyline-bikini by Margaret & Hermione
Designed in Vienna, produced in Europe. Bikinis illustrated with skyscrapers from the series "New York": triangle top, € 119, bottom, € 80. In addition the fitting kimono, € 140.
Color on the back by R. Horn's
The backpack, available in two sizes and various colors, has a practical front pocket as well as a discreet and secure zip pocket on the back. Available in the three Vienna city-stores – for example Bräunerstraße 7 – and via www.rhorns.com, starting at € 530.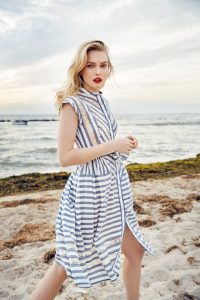 "Southhampton" dress by Lena Hoschek
The successful fashion designer takes us to the shores of the Baltic Sea with her collection "AHOY!". White, blue and red, stripes, anchors and coral patterns as well as sailor looks are most dominant. Dress, € 640.
True Viennese by Ludwig Reiter
Founded in 1885, the manufactory produces classically welted shoes and high-quality leisure & sport shoes for women and men as well as fine leather items and accessories. Model "Wiener", € 659.
Trendsetter shades by Schau Schau
The new sunglass collection "trendsetting" lives up to its name. Avant-garde designed by Peter Th. Kozich – "handmade with love in Vienna": a real eyecatcher, € 295.
"Nomen est omen" by True Boxers
Fashionable but sustainably produced, and then furnished with charm and wit – the Vienna label managed this feat instantaneously. Model "Metropolis", € 24,95.
Masterful handicraft by Scheer
The mobile workspace in its most elegant form: briefcase and suitcase of cattle neck leather tanned in Tuscany – made by hand in the Scheer bag workshop. The high-quality models are available in three sizes and different colors starting from € 3,500.
Shirt maker Gino Venturini
At Venturini, highest handicraft, use of exquisite materials and the perfect service are the most important matters. As a result, they gladly offer to complete a shirt fitting in 24 hours and to send the tailor-made shirt worldwide. Hand-sewn tailored shirts cost between € 190 and € 250.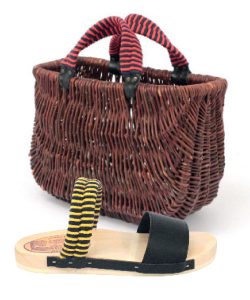 Avant-garde by rosa mosa
Simone Springer and Yuji Mizobuchi met each other during their studies in London and quickly became famous as shoe designers. rosa mosa stands for individualism, innovation and highest handicraft: basket-bag, € 156, flexible wood sandals, € 238.