Latin American inspired dishes, recently honoured with the Trophée Gourmet
as the best gastronomy concept, are being served at "Mercado".
As I enter the restaurant, I immediately feel the special atmosphere: comfortable music at a discreet volume, beautifully set tables, happy colors. The owner Klaus Piber is an experienced restaurateur and has fulfilled himself a long-time dream with "Mercado". ­Together with his partner, the chef Alexander Theil, he takes one on an ­inspiring journey to Peru, Mexico, Brazil, Argentina, Cuba and many other Latin American countries in order to experience unique, colorful and seasonal dishes.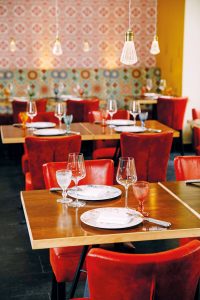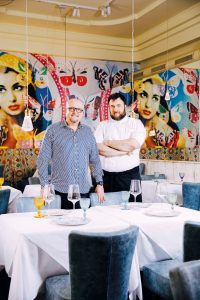 Seasonal market kitchen. Alexander Theil has lived in Mexico for quite some time and got to know many dishes. Among them ceviche, which in its original consists of raw small cut fish of different sorts marinated in lime juice for approximately 15 minutes. ­Chemically speaking the citric acid
 causes a sort of denaturation of the protein, just like during the cooking process. He describes his kitchen as "market kitchen inspired by Latin America". He says he works with various products from Latin America, "but in Vienna during winter, one also has to be able to use the seasonal vegetable cabbage – and this is how new dishes are created". As long as he can "be creative and work with amazing products". By now he uses 15 different dried chillies from the country of origin, "because the aromas only enfold in local climates", and ten different fresh chillies. Klaus Piber wants to inject new impulses: "In Vienna, nobody had a clue about Latin American cuisine. It offers more than just mountains of meat," he says laughingly, "every now and then we bring in guest cooks from Latin America in order to showcase how diverse this kitchen can be." Already six chefs have demonstrated how to create something new and exciting with regional products in the last three years. Furthermore, Latin American cocktails made from fresh fruits from the market are mixed at the bar. What's important for Piber is that he "excites" more and more people in Vienna and can keep the quality at an "acceptable price level". Winning the coveted Trophée Gourmet 2017 is a sign that they are on the right path. www.mercado.at
Text : URSULA SCHEIDL
Photos : STEFAN DIESNER