Peter Rigaud, the Vienna and Berlin based photography artist, portrayed the "Burg" stars in every nook and corner of the venue for his photobook. And last, but not least: the biggest German theatre itself.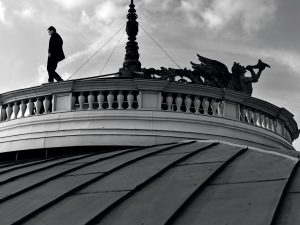 Interlude. The Burgtheater is an institution. Actor Michael Maertens takes a stroll on the roof – a balancing act just like acting itself, wonderfully set in scene by Peter Rigaud.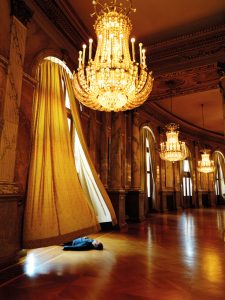 Philipp Hauß lies down. The actor born in Münster – studied at the
Reinhardt Seminar and has been at the Burgtheater since 2002. Currently
he can be seen in "Hexenjagd" & "Antigone".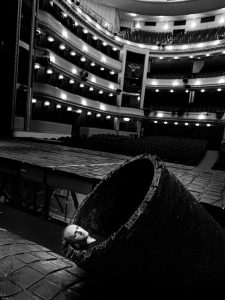 Once in the role.
Andre Meyer, born in Hamburg, has been at the Burgtheater since 2009, where he performed – among other plays – in "Mutter Courage und ihre Kinder".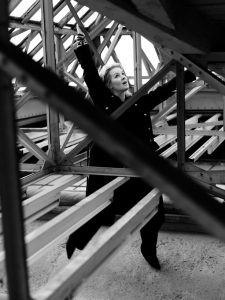 Airy on the go. Petra Morzé, born in Carinthia, is a very busy one – currently she can be seen in Nöstlingers "Lumpenloretta" and the love story "Die Wiedervereinigung der beiden Koreas" by Joël Pommerat.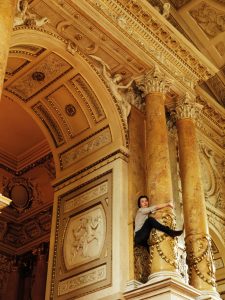 Embracing. Sylvie Rohrer is Swiss born and has been part of the Burgtheater ensemble since 1999. Currently she can be seen in "Coriolan" and in "Bella Figura" by Yasmina Reza.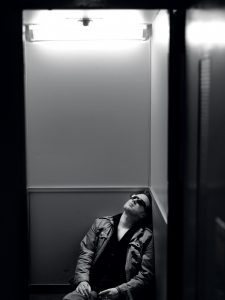 With sunglasses.
Burgstar Nicholas Ofczarek was already brought to the house by Claus Peymann. He performs in "Geächtet" and "Endspiel" and even played the Jedermann in Salzburg.
Text : HELMUT SCHNEIDER
Photos : PETER RIGAUD